CREW Network Annual Convention 2022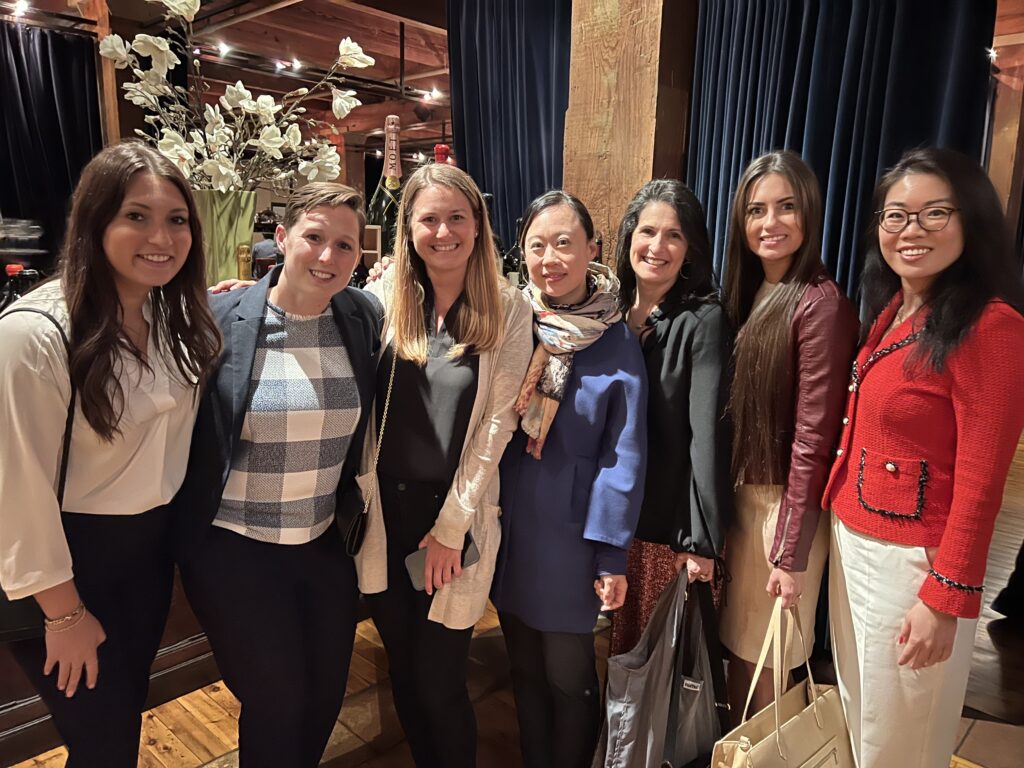 The 2022 CREW Network Annual Convention may be over, but our representatives, Lisa Mui and Bailey Graves, have been reminiscing about their highlights from the three-day conference. Attended by over 1,300 commercial real estate leaders from across the country, the event proved a wonderful opportunity to network, learn, celebrate, and share. We asked Lisa and Bailey to tell us more about their favorite takeaways from Chicago.
Macro: This was your first CREW Network Convention. What were the most memorable parts of your experience? Any surprises?
Bailey: Plenty of memories to choose from! I enjoyed the International Portfolio Management panel and Leading Below the Surfaces session — both enlightening with great presenters and lively Q&A. The meal-time introductions were also incredibly valuable. I found the connections we made during meals were much deeper than I had anticipated.
Lisa: I absolutely loved the breakfast seminar with keynote speaker, Jill Donovan. Thought-provoking, inspiring, and educational. I also found the overall energy of the convention electrifying; everyone was so motivated to learn from others, share personal experiences, and learnings from their professional careers. It was easy to make connections in that environment.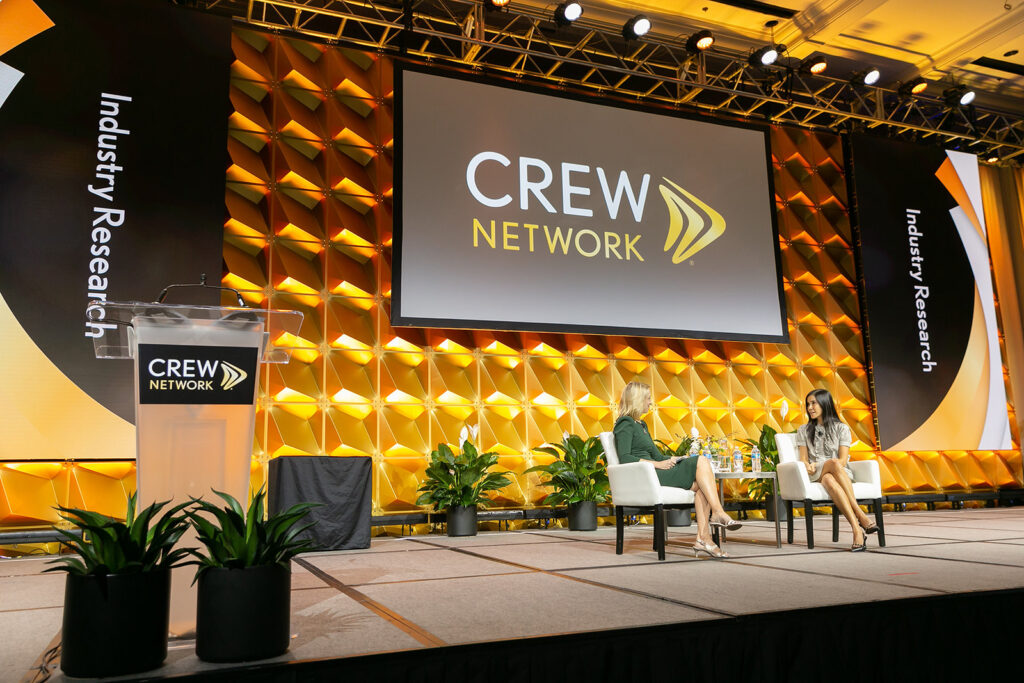 Macro: Tell us something you didn't know going into the convention.
Bailey: I learned practical tips for how to manage international portfolios including how to prepare for meetings with clients from other cultures, how to navigate that space as a woman and pick your battles, and how to vet boots-on-the-ground support when expanding into new markets.
Lisa: Todd Henshaw's "Inspirational Leadership: Developing Leaders for the Future" seminar forced me to examine myself and my relationship with my team (and stakeholders, since we're an external resource to our clients!). The session engaged me to think about how we can improve performance through innovation, coordination, and culture creation. In summary, the speaker buckets 'inspirational leadership' into four traits: Admiration, Aspiration, Attention, Adaptation. After taking the self-assessment and following the seminar, I identified which traits I need to be more mindful of in continuing to develop. My goal is to always build trust, develop the team's partnership and culture, and communicate effectively with everyone involved.
Macro: What do you feel are the benefits of being a member of CREW Network?
Bailey: Personally, I really value the opportunity to build connections and get the perspective of other professional women who have built (or are building!) successful careers in real estate, manage clients, and promote organizational change through DEI. You never know where those connections could turn into friendships and, hopefully, bear fruit down the line.
Lisa: I got to hear stories from other women who have decades of experience and shared their knowledge of career building. I certainly plan to continue the conversation with other members I met, and those I connected with on LinkedIn.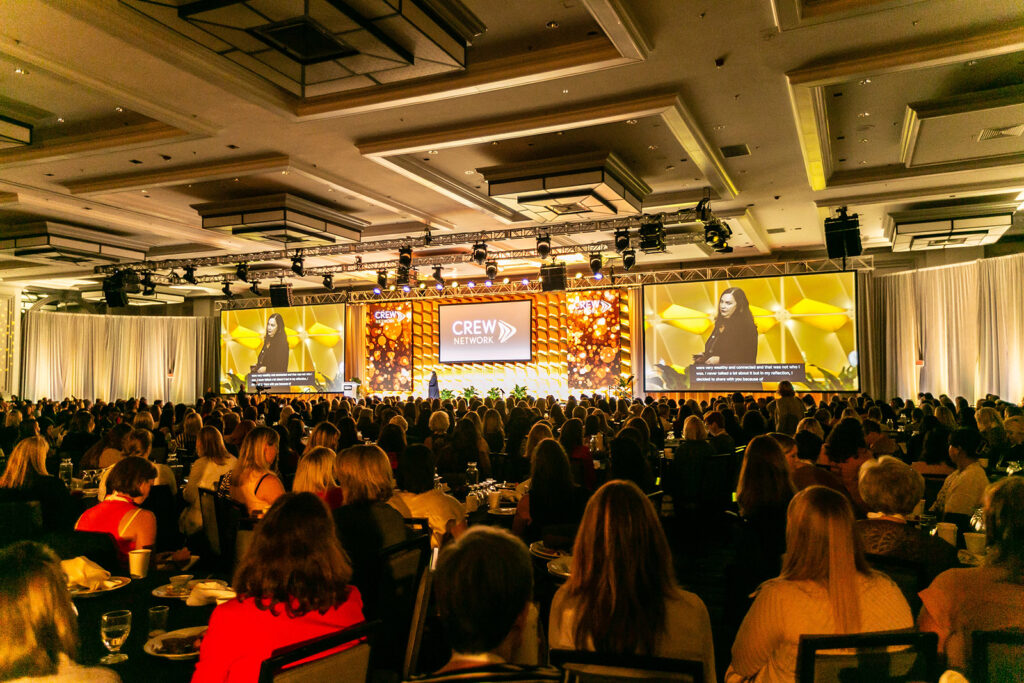 Macro: Any inspirational moments or advice you received from fellow attendees?
Bailey: The main themes I saw connecting the speakers and panelists were: perseverance and determination; navigating success in a historically male-dominated world; and the meaningfulness of engagement and participation. I was also struck by the evolution in the experiences of women who have worked in the industry for 20+ years compared to those, like myself, with far fewer years. It was cool to see the more senior women react to the progress being made and how they are leading and supporting younger colleagues who are focused on creating change.
Lisa: For me, I was inspired by the lunch program with Lisa Ling. She's an Asian American award-winning journalist and was Executive Producer for five seasons for the Oprah Winfrey Network. I'm a first-generation American with immigrant parents, so it was incredible to hear Lisa share her story and how her passion, hard work, and determination carried her to the top of her industry.
See you in Atlanta in 2023, CREW Network!
---