Emily Sobel Named 2021 GlobeSt. Woman of Influence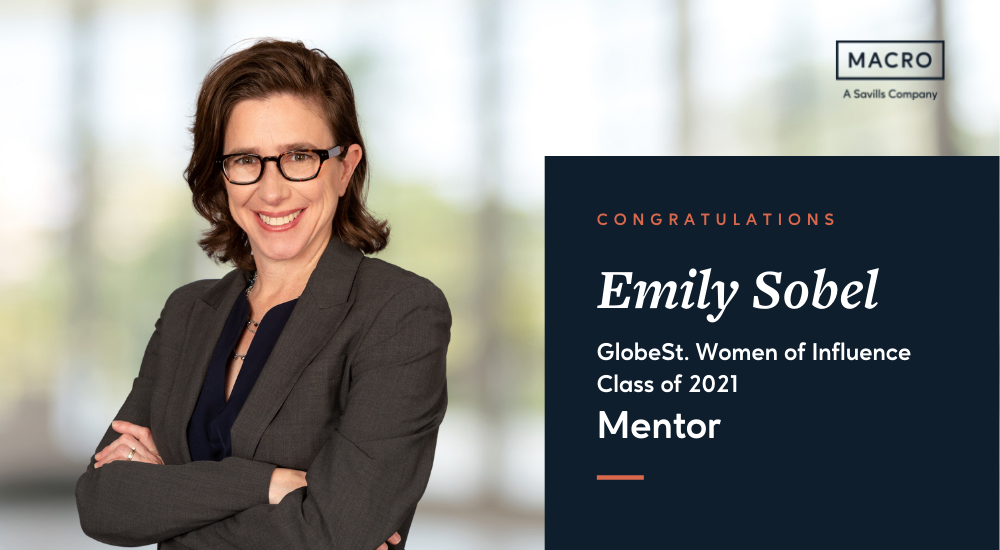 NEW YORK (May 26, 2021) – MACRO, A Savills Company is proud to announce that Emily Sobel, Executive Vice President, has been selected to the GlobeSt. Women of Influence Class of 2021 in the Mentor award category.
Since joining the firm in 2013, Emily has proved a committed, hands-on mentor whose leadership has been instrumental to Macro's sustained culture of learning, inclusivity, and celebration. Over the past 12 months especially, her voice has resonated even further: with empathy and consideration for all of Macro, Emily has spearheaded programs and set priorities that have strengthened relationships and promoted wellness within her team and across the company.
"Emily embodies the true meaning of mentorship," said Michael Glatt, Vice Chairman, North American Head of Project Management at Savills. "Through her commitment to the collective team's professional growth, dedication to championing women leaders in the industry, and passion for elevating others to reach their greatest potential, she is an inspiration to the entire Macro family and serves as a model leader within the organization."
Among her many contributions to internal initiatives, Emily has been influential in establishing and scaling Macro's learning and development program, MacroBUILDS. She has worked with a team of subject matter experts and thought leaders to create an overarching curriculum of over 20 training courses, each contributing to employee's overall skill- and knowledge-building, and enriching their growth potential from day one.
In her leadership role as Executive Vice President, Emily is also responsible for fostering organizational excellence and providing strategic direction. She manages team members and their workloads to ensure optimal efficiency across projects, while ensuring that every individual is equipped with the best tools and resources to perform at the highest level.
From internal initiatives to driving team success, Emily's reach has touched nearly every Macro employee. Her broad impact is seen, felt, and experienced each day—and it is fitting that she has been selected as a 2021 Woman of Influence.
Join us in congratulating Emily for this great recognition!
See here for the full list of GlobeSt. Women of Influence Class of 2021 winners.
---