Emily Sobel Named a 2022 Notable Woman in Construction, Design & Architecture by Crain's New York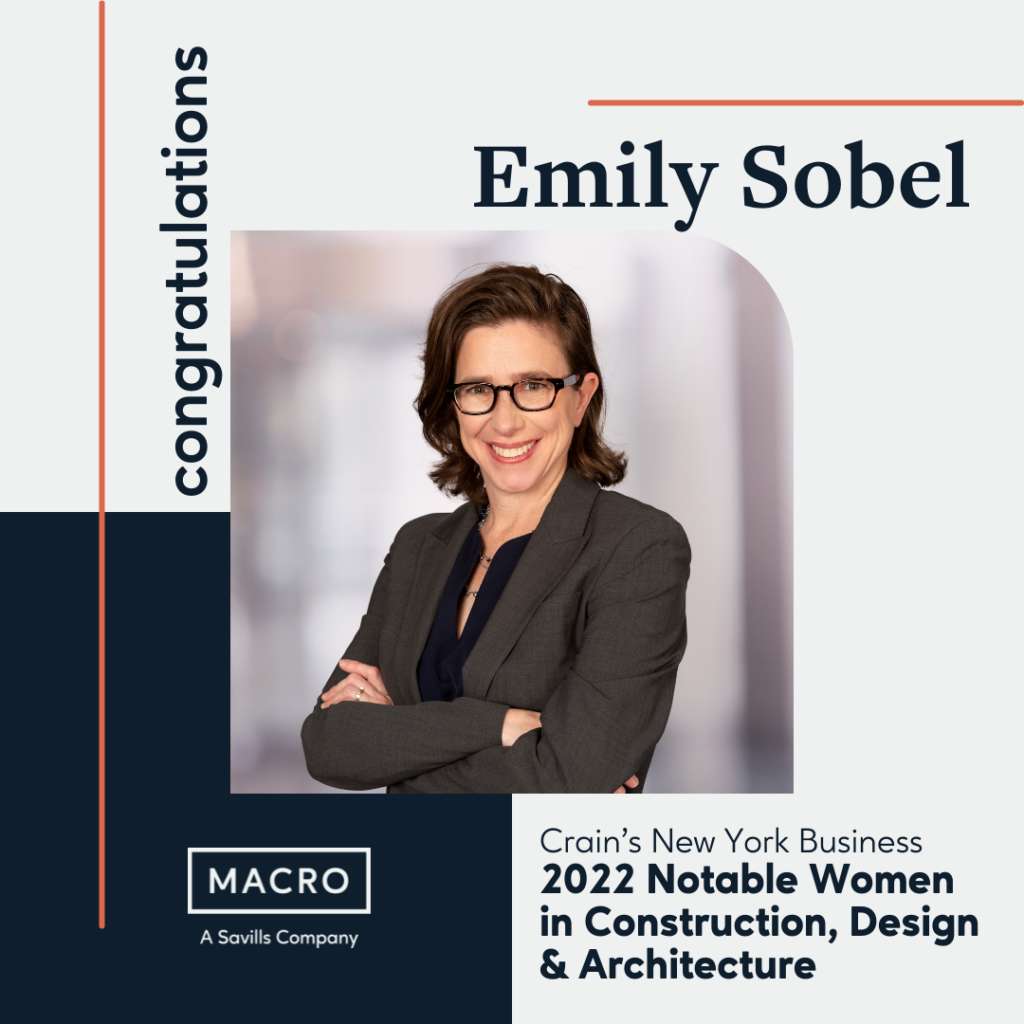 NEW YORK (March 22, 2022) – Macro, A Savills Company is thrilled to announce that Emily Sobel, Executive Vice President, has been selected for inclusion in Crain's New York Business's list of Notable Women in Construction, Design & Architecture.
Emily is honored among an illustrious and accomplished group of 40 New York professionals who have set a positive model for empowering and uplifting women in the industry. According to Crain's, Emily and her fellow honorees "represent the top tier of their respective industries" and "provide creative vision and artistic prowess vital to their crafts."
With empathy and purpose, and driven by a firm belief in gender equality and diversity, Emily has spearheaded mentorship initiatives and set priorities that have strengthened relationships and advanced women in design and construction. She has built replicable programs that empower women to become leaders and mentors themselves, as well as dedicated herself to their advancement within the industry. For example, Emily co-sponsored an internal company initiative, called Lean In, a women-led mentorship group which empowers members with knowledge and resources to aid their growth and learning. Her advocacy and commitments enable others to strive higher, reach farther, and be stronger.
"Emily's acumen and intellect, her technical skills, and her hands on approach to managing design and construction, provide a great foundation for her successful leadership," said Michael Glatt, Vice Chairman, North American Head of Project Management at Savills. "Above all, her discerning emotional intelligence, empathy and awareness, and her dedication to employee engagement and development, are beyond compare."
Emily's depth of technical and industry knowledge complements her signature brand of mentorship and leadership; she is guided by a steadfast commitment to people and processes. As a highly sought-after project executive responsible for Macro's largest and most complex projects, Emily focuses on the strong partnerships needed between contractors, vendors, consultants, and, importantly, her clients. She is known for creating an environment based on mutual trust, open communication, and creative thinking, leading to positive group dynamics throughout the entire project team.
Emily's substantial contributions to the fields of Design and Construction, as well as to the people with whom she works and mentors each day, were twice twice in 2021: Emily was honored by GlobeSt.com as a 2021 Woman of Influence – Mentor; she was also named by the New York Business Journal as a 2021 Woman of Influence, one of just 10 executives to receive the honor and the only executive working in Real Estate and Construction.
Join us in congratulating Emily for this great honor!
---